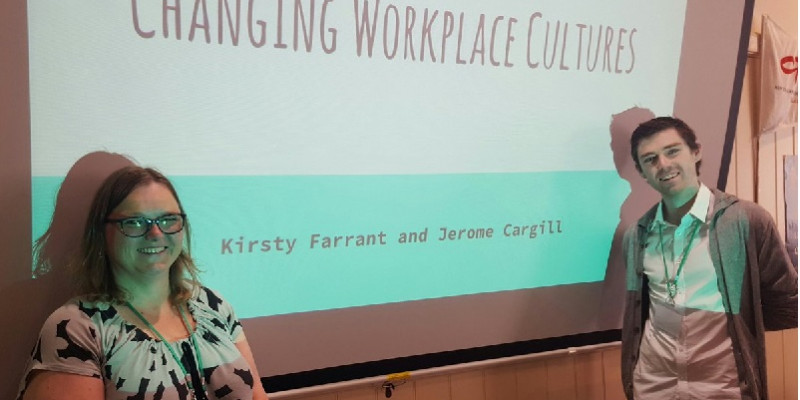 Unexpected upsets about toilets and uniforms
The coverage of PPTA's advice to schools to have gender neutral toilets and uniform options has been full on, and a few members have been in touch to ask why we are 'campaigning' about this. This blog post is edited from some of the replies we have sent.
We've been rather surprised about the media coverage that this has received. I can see why some teachers and members of the public are asking what this has to do with 'union business', but I think there's a pretty clear link.
For background, last Friday, Pink Shirt Day (part of an international anti-homophobic bullying campaign) we reissued our "Affirming diverse sexualities and gender identities in schools" guidelines, a document that was first produced in 2002.
This was a refresh of advice that our Rainbow Network have developed and promoted over many years, aimed at making schools safe, welcoming and positive places for students and teachers of diverse genders and sexualities. We've been doing this work for years - creating guidelines for teachers, principals and boards to refer to, and delivering our very well received workshops on the same issues.
As it was Pink Shirt Day we put out a press release about these guidelines, something which we do fairly regularly to let people know what PPTA is up to, and we expected that like most press releases, it might get re-tweeted by some of our friends, and that would be that. The front page of the NZ Herald, full spectrum media coverage, the PM commenting etc… isn't something that we anticipated or planned for, but we've been pretty pleased with it generally. Clearly the issue's one that's topical and of public interest at the moment… and to be fair, it's been a slow news week.
The reason I want to point this out is two-fold. One is that it's not a 'campaign' or something that we're diverting energy or resources into more than we would with other similar work. And secondly, we produce many sets of guidelines and advice like this – for example the Anti-violence Toolkit, which has advice for teachers and schools when there is violence or bullying against staff or students. Many of these deal with traditional 'industrial' matters, along with broader issues of school climate and so forth. Like the guide under discussion, we re-issue them regularly and put out press statements when there's something relevant and timely to be said about them.
In my view, why this blew up so much is that challenging binary gender identities is really 'zeitgeisty' at the moment. But it's another example of PPTA being on the 'right side of history', and the main-stream media and the rest are just catching up with things we've been saying for years. It seems inevitable that gender neutral toilets and less heavily gendered uniforms are on their way in, and if we can help to usher in a more sensible, tolerant and caring approach to marginalised people, then yay!
But, about the issue more broadly, making schools safe and welcoming for all our members, whatever their gender, ethnicity, sexuality and so forth… is part of our core business. PPTA's constitutional goals make this really clear, since the 1980s they have been:
The objects of the Association shall be: (a) To advance the cause of education generally and of all phases of secondary and technical education in particular.(b) To uphold and maintain the just claims of its members individually and collectively. (c) To affirm and advance Te Tiriti O Waitangi (The Treaty of Waitangi) as embodied in the First Schedule of these rules
PPTA's Executive, Annual Conference, and general membership votes and surveys, have made it really clear that members expect us to play both a professional and industrial role – members expect us to advocate for issues to do with curriculum, school management, teaching and learning, educational equity and quality etc… that cross over with but are in many ways far broader than teachers' pay and working conditions. To me it's clear that all of these things allow teachers to have better working lives.
Of course we have to be careful not to get out of step with members on these things, and there will be times when some members disapprove of social stances that the association takes. That's the nature of having 18,000 smart, opinionated and tough members! But we have to remember that all of these positions come from members too – other teachers on our Executive or at Annual Conference have proposed and argued for them, and if people don't' like them they can put themselves forward or vote for someone else! That happens regularly – we've had some high turnover on the Executive in Auckland recently with contested elections happening more often, which is great.
Finally, we're proud to advocate for schools to be safe, welcoming and supportive places for students, as we think that our members want that, and it is very likely to create the same atmosphere for teachers too. The classic aphorism – teachers' working conditions are students' learning conditions, absolutely applies here.