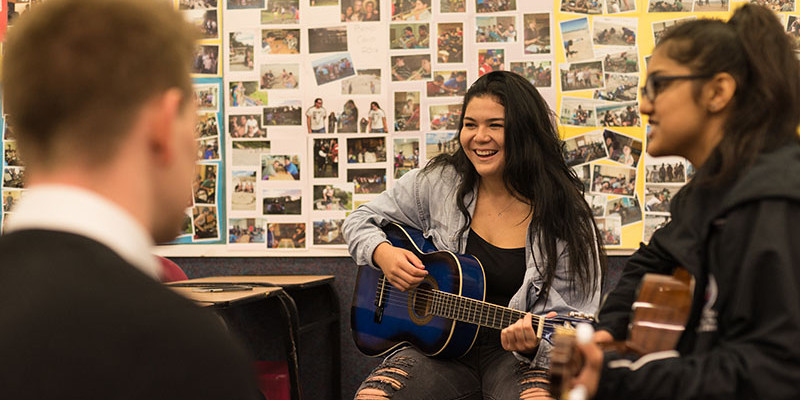 Valuing music teachers
PPTA member Andrew Stopps shares his plans for research he hopes will make a difference in music teachers' lives.
A surprise finding during research for a doctoral thesis led PPTA member Andrew Stopps to investigate how vital it is that music teachers feel valued.
From holding music classes in a disused toilet in the Australian outback to teaching in specialist music colleges, Andrew has been involved in music education for most of his life.
He moved to New Zealand from Sydney 10 years ago and is currently working on a thesis on music teaching as part of a Master of Education.
Wanting to create a piece of research that would make a difference to teachers' lives, Andrew decided to conduct a survey to find out what music teachers want.
Asking what music teachers need 
"When I was about to do the research it occurred to me if it was to be beneficial then I should find out what they need, not what I think they need," he said. 
Andrew distributed a survey through various music education channels and was overwhelmed by the response. "I expected around 50 responses – 784 later and I had to say 'stop!'" Respondents ranged from early childhood teachers through to tertiary, he said.
While Andrew is still working through the survey responses, one of the themes that came through loud and clear was music educators' sense of value.
"There was a large group of respondents who didn't feel valued by their school and this will be the focal point of my research now. How important it is for people to feel they are valued in their workplace.
Music teachers go above and beyond 
"Music teachers go above and beyond in what they do, giving their own time. There's a sense that music teachers feel taken advantage of," he said.
While Andrew was expecting responses relating to workload, and did receive a lot of those, he wasn't expecting the theme of feeling valued to come through so strongly. "It was the most powerful thing," he said.
"One teacher said on top of a full workload, as the only music teacher in their school, they managed 12 ensembles. I don't know how you could do that and actually sleep.
"Most music teachers manage multiple ensembles in schools, which is part of what they are saying. On top of a full workload they are managing the choir, the school orchestra, the band. It's not like managing a sports team where you have one team for one season. It's like managing five sports teams that run all year," he said.
Helping through experience 
"Music teachers go into it because they are passionate about it, because they want to do it. Schools say 'yes, we want a band in Smokefree Rockquest and we want a choir and an orchestra' but teachers need time to do all this."
Andrew spends a lot of time thinking about what he can do to provide help to teachers, particularly in secondary music and is always happy to support music educators in any way he can with resources, visits or a friendly ear.
"Teachers have said 'I really need PD in this skill' or 'I need help with learning how to manage a music department, I'm fresh out of uni and I'm the teacher in charge'. I've been putting together some workshops during the holidays on these things. Through my own experience I hope to help some of these teachers," he said.
You are not alone 
Andrew also hopes his research will help school leaders see the value of their music department and teachers. "If they are having to run five ensembles then they should be considered as five extra classes. They need to have enough time to prepare and run these groups and not burn out." 
Andrew's message to music teachers reading this is that they are not alone.

"There are hundreds of teachers out there that are feeling the same way so at least they can feel like it's not them. They are not failing, they are not a terrible teacher, there is a reason they are feeling like this."
Teaching music is worth it
Despite the workload and value findings, Andrew still definitely recommends music teaching as a profession. "I remember when I started teaching and got my first pay check thinking 'you're paying me for this?' Through the years I have taught in lots of different situations, good and bad, and I still feel the same way I did then.
There are hundreds of teachers out there who can offer support and advice online, there is a mountain of research which I am happy to share. There's a teacher shortage and we really do need music teachers."
Andrew is happy to share advice and resources with anyone who is interested. Just email andrew@andrewstopps.com to get in touch.