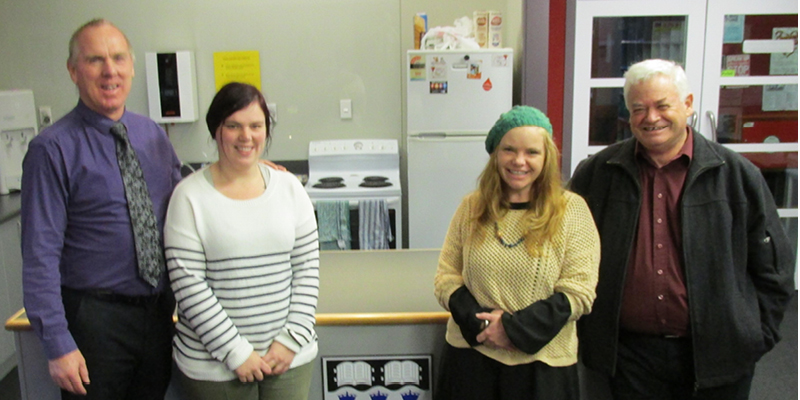 When teaching is in the blood
Buller High School's Ellen Curnow and Andrew Basher talk about teaching with family and benefits of rural schools.
Two father-daughter teaching teams in one school

Some families have teaching in the blood, and some schools are the lucky beneficiaries of those families. This is the case with Westport's Buller High School which has not one, but two, father-daughter teaching teams.

Ellen and Ray Curnow bounce ideas off each other and sometimes share classes – they both teach English. Principal Andrew Basher and his daughter Melissa share advice and co-coach the school soccer team – they both teach maths.

The lure of teaching

Nelson/West Coast PPTA executive member Ellen Curnow never thought she would be a teacher. Both her parents were and as far as she was concerned, it was not on the agenda for her.

A few years and a hairdressing qualification later however, she swapped the scissors for a whiteboard. "I wanted to do something interesting and challenging. Also, I had my son when I was quite young and teaching seemed like a secure job for a young parent."
English in the family 

Not only is she an English teacher like her dad; she is now an English teacher with her dad.

"I was teaching in Northland and was looking for a change and a job came up in my dad's English department at his high school. Once he knew I was applying, he stepped back from the selection process. I think he was pretty surprised I did."

Representing the region

As a member of PPTA's executive Ellen is following in her father's footsteps in more ways than one. "Our careers have followed similar pathways. Dad was on PPTA executive at 33 and I'm on PPTA executive at 33."

Buller High School is a particularly active PPTA branch with 100% membership and Ellen enjoys the opportunity to represent her branch and region through executive. "It's challenging and it's frustrating sometimes as well."

Team-teaching

Not only do the Curnows teach the same subject, at times they teach the same class. "We teach together. Last year we were team teaching a year 13 class."

With 32 students enrolled in year 13 English and two teachers available, they had the numbers to make it work. Both father and daughter were timetabled at the same time and they ran a mixture of joint lecture-style lessons and separate classes. "Sometimes we ran lectures with all of them and other times we split it. Each of us offers a text and they choose which text they want to study. I think they appreciated being able to choose a text."

Bouncing ideas around

Working together in the shared sessions was a great experience, Ellen said.  "We were all squeezed into one room with me and dad bouncing ideas off eachother. And of course there were plenty of dad jokes. I think the relationship that dad and I have is a good example for them, that you really can bounce ideas around. Because discussion is such a massive part of teaching English – it's good to model that, it's a way of thinking out loud.

"Sometimes when it's one teacher in the classroom it's harder. You have to model it by talking to yourself because the kids don't want to take up the discussion," she said.

Activism in the blood

Ellen's PPTA activism is no surprise given her family background. Ray Curnow has always been an active unionist and Ellen remembers attending marches and pickets with her dad since she was about four years old. "It's in the blood."

She learned lessons about solidarity from an early age. "When I was in year 11, in 1999, there was a strike towards the end of the year and I needed to work on my art boards. My art teacher told me she was going to be at school - so I worked on my boards while she was there. Dad found out and was so mad. I didn't realise what it meant that that teacher was at school. Now I do."

I'll just ask dad

Mixing family and the workplace has worked well for Ellen, though things can be a little more informal than other schools.

"Sometimes when I get asked a question in class and I don't know the answer I'll say 'I'll just ask my dad', instead of 'I'll check with the head of department'," she said.

A surprise application

Buller High School principal (and PPTA member) Andrew Basher is surprised and pleased to be working with his daughter Melissa. Melissa Basher had previously worked at Te Aroha College and had returned home for six weeks. She had a British passport and was planning on teaching overseas but discovered a job opening at Buller High School.

"There was a maths vacancy, and blow me down, she applied for it. I didn't think she would," Andrew said.  She started at Buller this year and will finish her registration at the school. "She has some great teachers mentoring her," he said.
Sharing the maths bug

Both father and daughter are keen mathematicians and, while Andrew has moved into senior management, he still hasn't gotten rid of the bug.
He is teaching some maths classes at the moment and is able to help clarify things for Melissa. "The apple doesn't fall far from the tree. She doesn't mind asking questions and it is really rewarding working with her," he said.

Teaching as a career choice

Melissa had always been very good at maths and, out of the blue, decided teaching might be a good career, Andrew said.

She loves to travel and sees teaching as a good transferrable skill. "I'm really impressed with how she gets involved with the kids. She just loves maths," he said.

Becoming a fully-fledged member of the community 

The beauty of teaching in a rural school like Buller is the backup you get, Andrew said. "We support and look after our teachers. When you become a teacher in our school you become a fully-fledged member of the community.

Teachers who start in a rural school can make moves in their career at an earlier stage because they have more experience, he said. "Rural schools are great that way. You get to do everything. Melissa is helping me coach the soccer team." Teachers who start in a rural school can make moves in their careers at a lot earlier stage because they have more experience, he says.

A well-known name

Basher is a well-known name at the school, with Andrew as principal, Melissa having gone there and her mother working part time at the school for a while too. So the family teaching scenario is nothing unusual for the students. "The kids don't really notice. It doesn't even click to them. All of the teachers' kids go here."

Andrew is a little miffed his daughter is stealing some of his thunder though. When out and about in the community he is used to students coming up and saying "hello Mr Basher". Now when he is seen out with Melissa it's "hello Miss Basher". "I get a bit put out to be honest. It's all about me."

West Coast community

Andrew loves the environment of working on the coast and finds it community-minded rather than isolating. "And it's only a 40 minute flight to get to the capital city."

"The kids are great, people in our community walk with their heads up and say hello. It's an open environment. The kids are very accepting of people. We don't have gangs. The kids do naughty things, but they are ordinary naughty things."

Knowing all the students by name

There are 330 students in the school and Andrew knows every one of them. "They can't just become a number, they are a person in their own right and they remain that way because the community is watching," he said.

Andrew is really pleased this is the environment Melissa is gaining her teaching experience in. "I think it's great she wants to move down here and work with her father. I'm really proud of her."