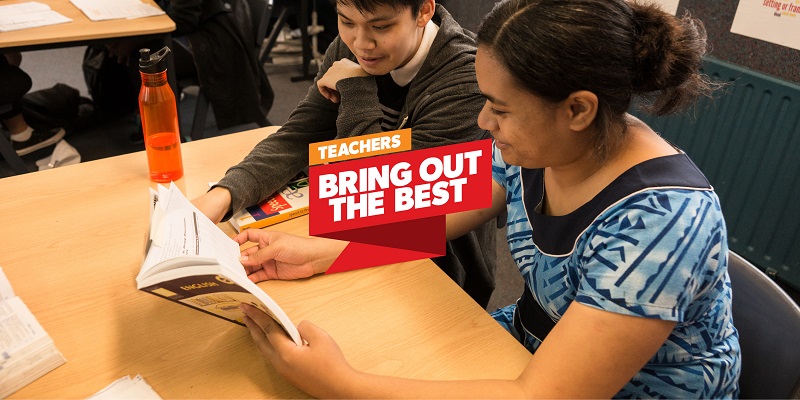 Bringing out the best and changing lives
As part of our Bring out the Best campaign we asked people to share their stories about secondary teachers who made a difference in their lives. Here are just a few.
"My chemistry teacher in year 12 and 13 was the best teacher I have ever had (many of my peers agree). This teacher made sure she had a special connection with every student, taking the time to understand each person's learning and making sure everyone knew what was happening at all times. When I had personal problems she was always a trusted teacher I could turn to and she was always willing to help and be there for support. She was the coolest, kindest person I knew, as well as super smart and a great teacher. She made me love chemistry and it was my best subject. Going to miss her so much when I leave school but will for sure keep in touch!"
"My music teacher, Graham Campbell, showed incredible dedication to his job and his students. He gave me a piece of life advice that inspired me and shaped my future: 'If I wake up one morning and think "I don't want to come to school", I'll go straight to the principal and resign. You need to love what you do, otherwise you can't do it well.' I became both a musician and a high school teacher, every day following his model to bring out the best in my students." – Cameron Stewart
"I had an amazing teacher. My teacher was always helping me and knew I could do it. She helped me set deadlines for when I had to get something done, and it worked like a charm :)" – Dean Mhazo
"My teacher goes above and beyond by helping her students in every way possible. She comes in early and stays late just to help her students succeed. She has shown more dedication in my life and passion to her teaching than anyone in the profession that I've ever met. She does this purely out of the kindness in her heart, and I really appreciate her and everything she does for me and her other students."
"I am a year 13 student at Western Springs College and a teacher that has made a difference in my life and who I feel really luck y to have is my chemistry teacher, Kelly McCrorie. This my second year having Kelly as my teacher and she has made me loooooooove chemistry. Her style of teaching is the best, and she teaches in a way that is so easy to understand and is also very interesting. She respects everyone and gives people enough time to understand, instead of rushing ahead and leaving people confused. Kelly also has the kindest and bubbliest personality and is always happy. Because of this, it has honestly made all of her students love going to her class. I couldn't ask for a better teacher and I feel really happy that I am one of her students!!"
"I started working for What Now thanks to our great Drama teacher David Chambers. Teachers can create life-changing results." – Stacey Morrison