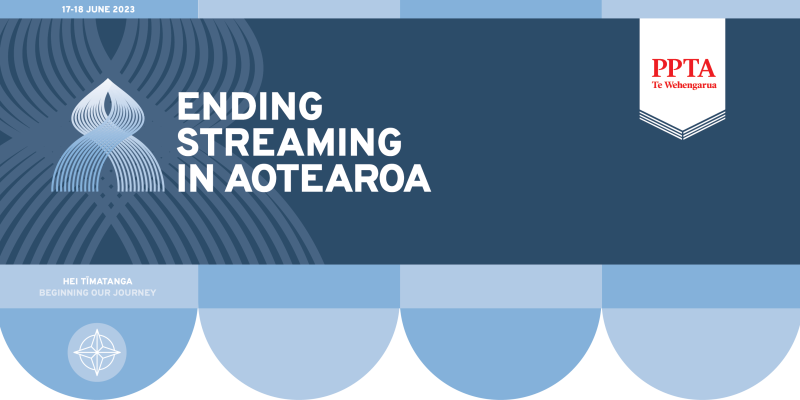 Ending Streaming in Aotearoa
Hei Tīmatanga –Beginning Our Journey

The Ending Streaming in Aotearoa summit will be held on June 17th and 18th in Wellington. While it will be most beneficial for middle and senior leaders to attend, classroom teachers are also welcome to register.

Thank you for your interest in attending the Ending Streaming Summit. We have closed registrations as we are at capacity.

If you would like to be placed onto the wait list, please email khoupapa@ppta.org.nz. We may have some spaces for delegates who are Wellington-based.
This summit is titled 'Hei Tīmatanga –Beginning Our Journey', and will focus on the first steps in moving our schools into a destreamed practice. Our first keynote speakers have been confirmed and are: Karen Littlewood, President of the Ontario Secondary School Teachers' Federation, and 'disobedient thinker' Professor Welby Ings. More will be announced closer to the summit. It is free to attend and accommodation and travel costs will be covered for most delegates. If you would like more information, please email khoupapa@ppta.org.nz.
Conference registration and food over the two days is free. PPTA TE Wehengarua will meet travel and accommodation costs for our members only.
Venue:
The Brentwood Hotel
16 Kemp Street, Kilbirnie, Wellington 6022
When:
17th of June 2023
18th of June 2023
There is also a Facebook event that you can follow for updates.