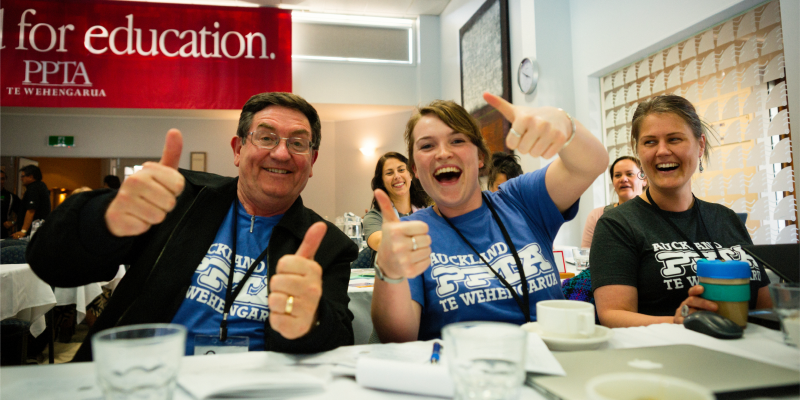 Membership
Join PPTA Te Wehengarua - the voice of the secondary teaching profession in New Zealand


Join PPTA, where teachers stand together
The Post Primary Teachers' Association Te Wehengarua is the professional body and union representing secondary teachers. We work together to support teachers and advance public education in New Zealand.
If you are joining for the first time or rejoining after a break from the union, please consider filling out our New and Rejoining Members questionnaire (surveymonkey.com), which helps us improve our services and lobby more effectively on your behalf. If you would rather fill out a paper version of this form, you can find one to print here.
Teachers
Student teachers – membership is free!
How PPTA works
PPTA is the voice of secondary teachers, with over 20,000 members. Each secondary, area school and technology centre has its own PPTA branch in one of 24 regions. Regions are represented on a national executive and at annual conference.
PPTA's executive and its Māori partner, Te Huarahi Māori Motuhake, are elected bodies that work for members nationally.
There are also networks for women, Pasifika teachers, new teachers, principals, deputy and assistant principals, LGBTIQ+ teachers and other groups.
PPTA's annual conference is the forum where members debate and construct major policies.
The PPTA constitution details the workings of the association.
Supporting teachers
PPTA provides advice, guidance and advocacy about members' conditions of employment.
Members enjoy the following benefits:
Collective agreements that guarantee your pay and conditions
Professional and legal advice, employment relations education and dispute resolution
Professional networks where you can take part in decision-making and influence the debate on crucial education issues
What does it cost?
Full membership is for full- and part-time teachers, relief teachers, and members who are on leave without pay for up to two years. The subscription rate is one percent of your fortnightly base salary. Honorary membership is for retired members or members who are on leave without pay for a period of more than two years. The subscription rate is $50 a year. Membership for adult and community education teachers is $50 a year. Membership for trainee teachers is free.