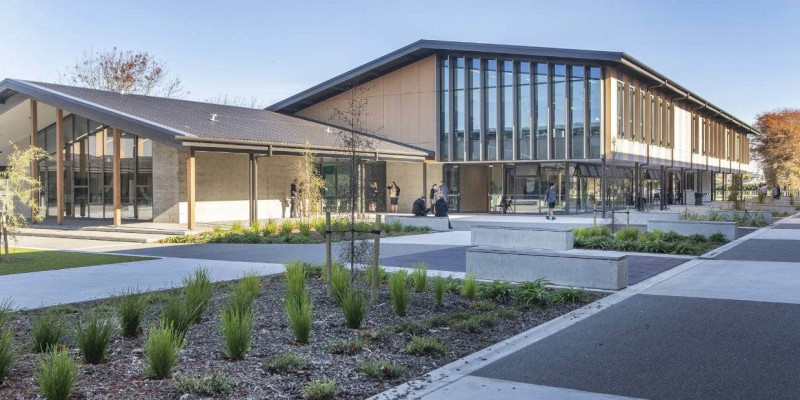 Haere ra Linwood, haere mai Te Aratai
Teachers' and students' sense of place were equally important in the design of Christchurch's newest secondary school.
Te Aratai College's staffroom has no working areas in it. "It's purely a place for relaxation," says principal Dick Edmundson. "We're really trying to honour staff practice and professionalism and we're aware that teaching is just getting harder and harder across the board. In communities that have significant challenges, it's become even harder."
Te Aratai – the name means gateway to the sea in Māori - opened at the start of this term on the site of the former Linwood College which was seriously damaged in the 2011 earthquake. The college had been operating from the former Avonside Girls' High School temporary site since July 2019.
Balance between open plan and classroom space
PPTA Te Wehengarua branch chair, Emily Whiteman, says the real advantage to the design of the new school is the double glazing and we've got a really good balance between open plan and classroom spaces. It's calm and it's quiet and it seems to be quite social.
"There's a natural sense of awe among the kids that this is their space. They are loving it but have discovered there are some behaviours they can't naturally continue because people are seeing them. I've spoken to the kids about the design and how it aims to encourage social behaviour and a learning culture."
Focus on flexibility
Ensuring that teachers had private workroom space was part of the design brief, says Emily. "Teachers' as well as students' sense of place were equally important and there's flexibility so if staff start to culturalise through natural ways of working and decide they don't want to work in workrooms then that could in time be used for another space, say, a breakout space. Nothing has been designed with a concrete purpose. Everything's got screws."
Dick Edmundson said he and the Board of Trustees were deeply committed to involving staff in the design and development of the new school. Extra local community funding enabled some comprehensive community consultation to be carried out. "We then discussed with staff the community's values and expectations for the new school and quickly realised we needed to start talking turkey with the learning areas. These meetings enabled staff to think about what a mixture of traditional classrooms and collaborative spaces would mean for different teachers.
Community and whakawhanaungatanga values

"Our design is based on both standard traditional classrooms but with sliding doors between them and then some open spaces. The open spaces have natural divisions with stairwells and other things so they can be all like a separate space and it also means we are putting our more senior classes in there who are able to manage themselves.

"I love the fact that the school has been built to community and whakawhanaungatanga values, so there are courtyards and spaces for chatting. The buildings have been designed, where possible, to block off the easterly wind which is a very cold wind in Christchurch. That attention to detail, so kids can sit outside and have that cold wind blocked, is lovely."