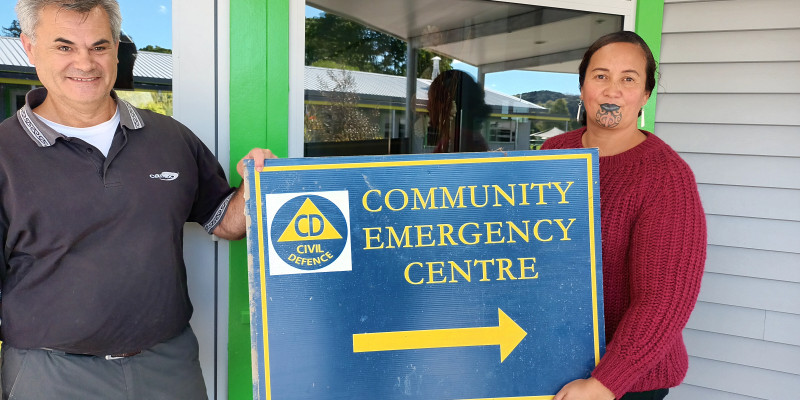 Heart of the community
Te Karaka Area School became the civil defence centre and the hub of the community in the wake of Cyclone Gabrielle
Te Karaka Area School was closed for instruction for 18 school days after Cyclone Gabrielle – not because the school was damaged, but because the community needed it for food and shelter.
Usually the two marae in Te Karaka, a small settlement about 30kms inland from Gisborne, serve as the hubs for the community in emergencies but they were both washed out by the flood.
Principal Renae Savage says she and the teachers were working 14 hour days. "People were living here, showering, eating three meals a day, the school was a safe haven for hundreds of people. We provided welfare for families who had nowhere to go. One hundred and twenty people were living here at one stage. And we were feeding 300 to 400 people a day in the school hall."
Civil Defence set up its local headquarters there also.
Facilities are modern and spacious at the school, which opened in 2011, replacing the local primary school and Waikohu College.
Although no water got inside, the grounds looked like a war zone, says Renae.
She estimates that about half of the school population – 50 tamariki – have been severely traumatised by the cyclone. 'They were in their beds asleep and were suddenly awoken by fire engines and loud hailers telling them to get out of their houses – it was the most severe experience of their lives."
Seventeen of those 50 students are now displaced or relocated in Gisborne and Renae has been bringing in seven students from Gisborne each day. "Some families have moved three to four times already – fortunately they don't have much to move because they have lost everything."
Teacher Kerry N-Garrett says ongoing effects of the cyclone are immersive. "It is all around you. Driving here each day and seeing people's belongings out on the road and windows and doors flung open as people try to air their homes out – it is heart wrenching."
Renae says trauma was affecting a lot of students before the cyclone. "The cyclone compounded the issues that already exist. Seventy percent of our ākonga do not live with their parents."
Teachers told PPTA News they found a trauma training day, organised by the local Ministry of Education very helpful. Kerry said the younger students had begun meditation and seemed to be getting real benefits from it, while the older students found 'tapping' therapy was helping to reduce their anxiety.
About half the school's eight staff live in Gisborne but those who live locally were affected by the flooding. One teacher, from Hastings, lives in a sleepout attached to her brother's place and that was destroyed. So was the house she owns in Hastings.
Teacher Henare Tahuri says his family was flooded in. "We couldn't get out for days but having no communications was the hardest thing. We were cut off totally for three days. I've been doing renovations so we haven't had an inside kitchen inside for ages but we were well set up outside for cooking, and we have an outside shower. We needed to get ourselves sorted before we could help others."
Branch chair and local resident Mohi Mete said when he heard the sirens going and the loud hailers blasting about 5.30am, he thought it was the police chasing someone. "I was lying in bed saying to myself 'just pull over now". But he soon realised it was an evacuation instruction.
"I chucked some clothes in a bag and put some food in a chilly bin and took off. A lot of us piled into a woolshed – we had a generator so we had a barbecue. The parents of one of the kids here started cooking up a storm. We were there for about 20 hours up on the hill."
He was relieved he did not go to the official Te Karaka evacuation centre in a shed on a hill on the other side of town. "There were about 400 people there and there was no food. After Cyclone Bola (in 1988) the evacuation centre was meant to be upgraded but it didn't happen."
When PPTA News and field officer and cyclone response coordinator Ahmad Osama visited the school in early April, it was a beautiful blue sky day and there were no visible signs of the flooding. The effects are still felt internally, teachers assured us. Silt dust is affecting people's respiratory systems. "When it rains, people are anxious, and you are back slopping around in the silt."