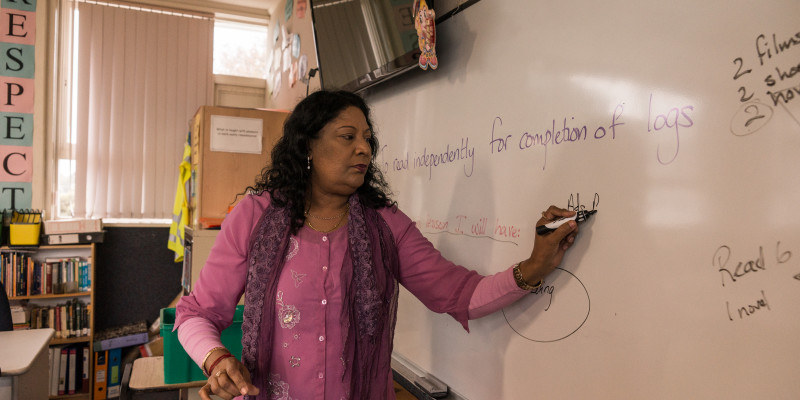 Is my job safe?
Out in the field – information and advice from PPTA Te Wehengarua's intrepid field officers.
Sunrise High School
At morning briefing Hira, the Principal of Sunrise High School announced to her staff that unfortunately, the school needed to lose the equivalent of three full-time teaching positions. Hira acknowledged it was not an easy message to be delivering and that she understood the next period of time would be challenging. Hira gave assurances that the school would run a thorough and transparent process in line with the collective agreement and she reminded staff they could contact EAP for support during the process.
James, the Branch Chair, was surprised and asked why staff would be losing their jobs as he knew the school roll had grown over the past year.
Hira explained that for a number of years the school had been staffed over and above the guaranteed minimum staffing funded by the Ministry of Education. Although it was expected that there would even be a small increase in Ministry funded staffing for the next year the school could not afford to keep funding additional staff out of its operational funding
Hira explained that funding generated by the school's previously large number of foreign fee-paying students had been considerably reduced for over a year and that it was this additional funding that had supported the three additional positions. The money was no longer there to support extra staffing and the school could no longer adopt and a wait and see what happens approach.
James, who had been involved previously with a situation of staff losses due to falling numbers of students, wondered if the process to be followed in this situation would be the same or different. James called his Field Officer, Pawina, for some advice.
Different reasons, same process
Pawina explained that irrespective of the reason for the staffing reduction, the same process needed to be followed. Pawina told James she had a presentation on surplus staffing processes and offered to meet with the branch and share the information as well as answer questions. It was agreed that the presentation could occur during a regular staff meeting time.
Pawina explained that Hira had correctly followed the first step of any surplus staffing situation by telling staff that the school was in a surplus staffing situation. James, in contacting the Field Officer, ensured that members were getting access to advice about the process.
When she met with members, Pawina explained that the school had to follow a three-step process, as set out in the surplus staffing provisions of the collective agreement, before deciding which, if any, teaching positions would be disestablished or reduced in status.
The process at Sunrise Hi
Step one: Attrition
Attrition is the non-replacement of teachers who might, for example, resign or retire, or fixed-term positions that come to an end.
The school was compliant with the legislation around fixed-term employment and so there were no fixed term positions to consider under attrition. Whetu, a Maths teacher, had just accepted a position at another school. Karen, a science teacher, had been thinking about retirement but decided to put that thinking on hold, as she wondered if she might benefit from the next stage in the process. Following the attrition stage, there were now two positions that needed to be identified as surplus.
Step two: Voluntary options
For the two remaining positions, the school called for volunteers. It was explained if any staff member made a voluntary offer and it was accepted they would be able to choose one of three redundancy options: supernumerary employment; retraining, for up to one year; or long service payment.
Karen, who had been teaching for 33 years, was keen to get the long service payment and made a voluntary offer. Her offer was considered and accepted because there were other staff who could cover the curriculum areas Karen taught. Karen was delighted. She received a 30-week lump-sum payment and continued her relationship with the school by relieving there in future years.
Step three: The CAPNA process
The next stage was much more challenging. As there was one position left to disestablish, the BOT moved to a formal Curriculum and Pastora Needs Analysis (CAPNA) process. Here the Board needed to decide which teaching position had to be disestablished or reduced in status. As part of this step, the Board consulted with a nominee of the PPTA National Executive. A full analysis of the current and predicted curriculum and pastoral needs was undertaken and shown to teachers as part of the legal required consultation process.
The Board met in two stages. The first to make provisional decisions on how the reduction was to be met. Unfortunately, Jasmine's position was identified as surplus. Jasmine was the school's Japanese teacher and The BOT, having considered the CAPNA document, decided there were insufficient student numbers taking Japanese to warrant retaining her position.
Jasmine was notified of the Board's provisional decision and given all information relevant to that decision. Pawina supported Jasmine to comment and make submissions to the Board.
The Board considered Jasmine's response before making its final decision. The decision to disestablish her role was confirmed.
Jasmine was notified in a manner she had agreed to and advised she could choose from the following four options: supernumerary employment; retraining, for up to one year; long service payment; or severance payment.
Jasmine chose the retaining option but was not happy with the decision. She and Pawina discussed the viability of raising a personal grievance. In the end, a grievance wasn't pursued. Jasmine received a full salary for a year while she upskilled through completing a post-graduate diploma in Special Needs Education in the following year. Jasmine then became a SENCO working in a different school.
Hillborough College
John, the Principal at Hillborough College, had a similar morning briefing announcement. At Hillborough, the reason for the staffing reduction was different. It was because of falling student numbers and the school had been advised that the Ministry of Education would be funding fewer positions. The process that Hillborough College then undertook to reduce staffing was the same process as detailed above in the Sunrise scenario.
Remember, if your school is facing a surplus staffing situation for any reason your Field Officer will meet with your branch and explain the process in detail and support any members affected. These situations are difficult and occur through the fault of no one. Contact your Field Officer, if your branch is affected by surplus staffing, so supports can be put in place.