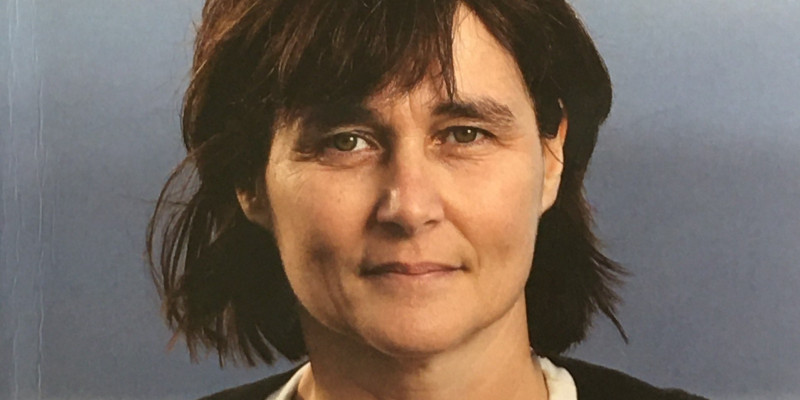 The life of Helen Kelly
Bronwyn Cross reviews Helen Kelly Her Life, the biography of a fearless union leader who strived to create a better and fairer world
In Helen Kelly Her Life, (Awa Press 2021) Rebecca Macfie has written a marvellous and important book, not just because it recounts the life of one of the union movement's shining stars but also because it documents the ongoing struggles of working people - from Pat Kelly's miserable, and often hungry childhood on the Liverpool docks to the impacts of New Zealand's often-brutal labour market reforms.
Helen Kelly was always going to end up in the union movement. Her father, Pat, was one of New Zealand's most notorious union leaders and her mother, despite being a product of the Eichelbaum and Chapman legal dynasties, was a member of the communist party and, throughout her life, a tireless campaigner on issues of social justice.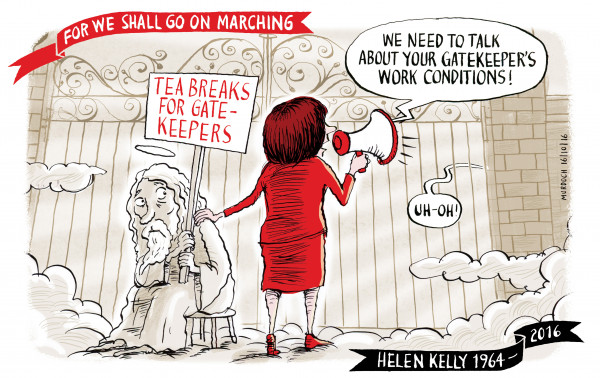 Fearless voice of those who were never heard
I worked with Helen in the late 1990s when she was the NZEI advocate for the area schools' collective agreements which were jointly bargained by NZEI and PPTA. This shared arrangement was more often than not the source of fiery disputes between the unions but Helen was not one to waste time on unproductive arguments or feuds. She was a clever and persuasive advocate and invariably optimistic and good-humoured despite the provocations.

Helen's willingness to speak out fearlessly on behalf of those whose voices were never heard is probably her greatest legacy. As CTU president, she accepted the inevitability of demonisation reserved for those who challenge the financial elite in this country.
She stood up against Sir Peter Jackson and Sir John Key to defend collective coverage for New Zealand actors. The spin that fair terms and conditions for employees would drive Warner Brothers to take The Hobbit elsewhere unleashed a tsunami of vilification directed at her.
It speaks to her courage and commitment to the cause that she didn't allow attacks to deter her. A few weeks later, she courted public opprobrium again when she condemned Peter Whittall, the chief executive of Pike River, for failing to take responsibility for the deaths at the mine; next she challenged Talleys for trying to break the Meat Workers' Union. She pursued Fulton Hogan when a young man was killed on one of their sites and supported the Maritime Union in a successful fightback against the Ports of Auckland who were bent on contracting out their workforce.

Taking the fight to farming, forestry, then cancer
She then turned her attention to the shameful record of deaths in the dangerous forestry industry and the complicity of the Ministry of Business, Innovation and Employment in failing to prosecute employers. Her campaign embarrassed the government into reviewing forestry safety.
Even in the midst of chemotherapy for cancer, she continued to fight for workers endangered in their workplaces, turning her focus to farming, still the most dangerous industry in New Zealand.

Helen's last public fight was with cancer and true to form, that became a campaign too. She used her public profile to advocate for drug reform, openly promoting her illegal use of cannabis to manage pain.

It's hard not to cry when reading this book not just because of the sad and unfair inevitability of her death on October the 14th 2016 but also because it's preceded by so many accounts of young men who suffered lonely and needless deaths in New Zealand workplaces. Helen fought hard to get justice for these young men and challenged the convenient platitude that they were somehow responsible for their own deaths. She tirelessly exposed the selfish market ideology that regards working people as an expendable resource.
An excellent resource for schools
It goes without saying that this book should be in school libraries but it's also an excellent resource for a non-fiction study or to complement historical and economic research. The level of detail about industrial matters might make the book a challenging read for students but the movie, Helen Kelly -Together would provide supportive background. Enthusiasts could complement this study with another book by Rebecca Macfie, Tragedy at Pike River Mine: how and why 29 men died. (Awa Press 2013)
Helen makes a compelling protagonist and her ambition to create a better and fairer world makes for a great story. This book more than does justice to her life.
A note on pay parity
History is written by the victors so PPTA has had little to say on the successful pay parity campaign which is discussed in this book. For context, in 1991, NZEI and PPTA decided to join forces and bargain together to combat the Employment Contracts Act. Absence of progress meant that the collective agreements expired which, under the new Act, was dangerous as all members defaulted to individual agreements. The plan had been for a joint nationwide strike on 1 July 1992, the first day of expiry and the first national strike under the Employment Contracts Act.
Instead NZEI withdrew from joint bargaining and reached a settlement which conceded terms and conditions affecting pay, sick-leave, maternity leave and removals. PPTA members went on strike and continued industrial action for the next 18 months finally achieving a settlement with substantial pay increases, new surplus staffing protections and no loss of conditions. NZEI's decision to settle without fighting for improvements was the real reason why primary rates were so low, not because of gender pay differentials.
At the time, the secondary workforce was itself over 50% female. Subsequently, NZEI was able to recapture these enhanced conditions because PPTA members had staunchly held on to them in the face of constant government attacks including the insidious bulk funding.
*Bronwyn Cross is a former PPTA Deputy General Secretary and Women's Officer.