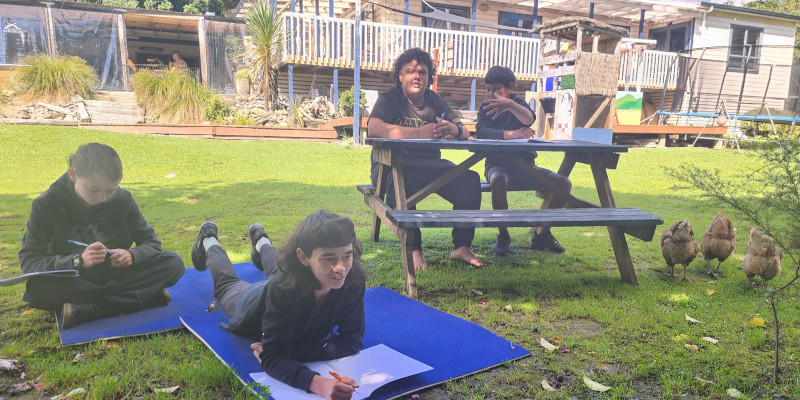 Tokomaru pop up kura
Hoana Forrester's carport became a classroom for isolated Tokomaru Bay ākonga after the cyclone
Tokomaru Bay ākonga couldn't get to school after Cyclone Gabrielle so their kaiako, Hoana Forrester, brought school to them.
For more than six weeks of Term 1 this year, Hoana's large carport at her home was the classroom for about 15 tamaraki and rangatahi each day. They usually attend Tolaga Bay Area School, about 30kms south of Tokomaru Bay.
"On one side of Tokomaru Bay, between here and Tolaga Bay, our bridge broke and on the other side there was a huge landslide that totally wiped out the road, so we were absolutely isolated, there was no way to get in our out."
During and immediately after the cyclone, Hoana was immersed in civil defence activities as she and her husband are volunteers.
"When I'd done what I needed to do for civil defence, I started thinking about our kids because we knew it wasn't going to be a quick fix for the road. I had discussions with our principal and deputy principal, I got approval and we went from there.
"We did a lot of journal writing every day and created a routine. It was great at my house. Luckily I've got a big carport so we could put couches in there and had a little library - it was a really cool space."
For the first two weeks, there was no electricity or wifi so ākonga created learning maps, reflected on themselves and set goals. "We tried not to put too much pressure on them, it was important to make sure they were okay and not anxious."
Messages from Māori maramataka, the Māori lunar calendar, were extremely pertinent for discussions with ākonga about what was happening around their environment.
In the fourth week scrap books from the area school were helicoptered in. Hoana wrote learning tasks for each ākonga at the front of the books so they could work through their tasks. "I could then work freestyle and go where I needed to – I was the cleaner, the bus driver, the counsellor, and the cook."
Hoana says a very exciting part of the pop up kura was having parents, retirees and others from the local community come and talk about their lives and careers. "It was amazing to have local people, people who ākonga might see every day but they don't see them in that light, they don't know that side of their lives, their career paths, so it was really really neat."
From airline pilots to police officers, everyone was happy to come and talk to the class. "They had the time because they didn't have anywhere to go, no-one could get in or out of Toko."
Having daily connections with parents during this time was also special as when the students are at the area school they usually catch the bus. "They (parents) would enjoy talking about what the kids had learnt that day." Set times for pop up school was 10am to 1pm. "But I'd still be trying to kick them out at 2pm."
There were also activities in the evening sometimes. Hoana's colleague, another secondary teacher, organised a fantastic outdoors programme, including star gazing and navigation activities. "One evening we gathered at the wharf about 6pm and we were still there until 9pm."
Another colleague, a teacher aide, was awesome with ākonga with special needs.
An interesting aspect Hoana noticed was that some ākonga that the attendance of some ākonga, that was poor at the area school, improved at the pop up school. She suspects it was the whānau vibe. "The kids were aged from 7 to 16 and were at all levels but everyone was in there together and felt safe."
Hoana says she is extremely grateful to the Tolaga Bay Area School leadership team who allowed her to set up the temporary kura. "We have two primary schools in Tokomaru Bay and they could have easily said we had to set up a space within one of those schools but that wouldn't have worked for us. Having three staff out put a lot of pressure on the other teachers at Tolaga Bay, they were just so happy when we came back."