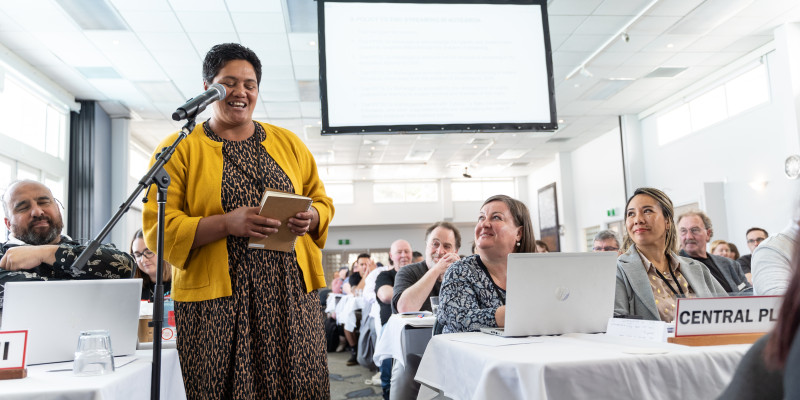 Paid Union Meetings FAQs
PUMs will be held regionally in the week of 26 - 30 June during school hours. PUMs are centrally funded by the PPTA, including for required transport. Your regional chair will let you know the timing and location of your PUM as soon as it is finalised.
26/06/2022 - 30/06/2023

Paid Union Meetings (PUMs) - FAQs
What are these paid union meetings for?
The PUMs are to give members information about what it means move from the Collective Agreement to Individual Employment Agreements. This will happen on 1 July because the Collective Agreement has been expired for 12 months.
At the PUM, members will also vote on proposed industrial actions for Term 3.
When are they being held?
The PUMs will be in the week of 26 – 30 June.
When will I know when and where my PUM will be?
Your regional team is working with the Local Field Office and National Office to set the most appropriate times and dates. We expect to have all times, dates and venues settled by 12 June.
Your branch officers will be notified of the information for your school by your regional team and a national schedule will be available on the PPTA website.
Can I attend the paid union meeting?
The Employment Relations Act (2000) allows everyone who is a union member to attend two paid union meetings a year. Every member has the right to attend the PUM. You cannot be told not to attend a PUM.
Will I have to make the time up later?
A PUM is counted as an official half day for 'Open for Instruction' - you do not have to make up the time later in the year.
Will I get paid?
The meetings occur in school time. You will be paid for attending the PUM if you would normally have been working in those hours.
Day relievers can attend PUMs but you will not be paid for attendance if you were not booked to relieve on that day.
Part-time teachers can attend but attendance will not create an entitlement to more pay.
Teacher trainees who are PPTA members can attend, but this does not give them an entitlement to payment for those hours. They can participate in the meeting but not vote.
How long do they last?
Each paid union meeting can be up to two hours, but they should last only as long as required to complete the business of the meeting.
What happens after the PUM is finished?
If the meeting is in the morning you will return to school.
If the meeting is in the afternoon, you will be free to go home unless there is a requirement from the employer to return (e.g. for a scheduled meeting).
Who notifies my employer we are having a PUM?
PPTA national office will advise principals that PUMs will be held in the week of 26 June.
Branch Officers can advise their principal of the exact date, time, and venue for their school when this is confirmed.
Formal notice of the paid union meetings will be given by PPTA national office to employing boards and principals on 12 June.
What happens to the school while the PUM is on?
Schools are not expected to operate normally during a PUM. Students may be asked to come in late if it is a morning PUM or leave early if it is in the afternoon.
Some supervision may be required. This should be provided by non-members or members who are not eligible to attend the PUM (e.g if they are on a different collective agreement).
If more cover is required for safety reasons the principal can ask the branch chairperson to find volunteers.
Your employer will be notified no less than 14 days prior to the PUM of the time and location of the meeting and during that time they will be able to organise how they will manage the school while the PUM is on.
Your regional PPTA team will have found the most suitable time for your regional meeting after consulting branch chairs.
How do I know if I am a current PPTA member?
You can join online
If you are paying subscriptions, you will see these as deductions on your payslip.
Your Branch chairs have access to a membership list, and you can check with them that you are on it.
Queries about membership can be made by emailing membership@ppta.org.nz
A person is officially a member from the time they sign a membership form or submit an application online.
What if I incur a cost travelling to the PUM?
Your branch may organise a bus or carpooling.
PPTA National Office will reimburse the cost of buses and the cost of shared private cars. The form for travel reimbursement at the PUM is attached.
Please email the completed form to lmckenzie@ppta.org.nz for payment.
What happens if I can't go to the PUM?
If you are not at the meeting, you cannot vote on any matters covered at the meeting – other people cannot vote on your behalf, and you cannot send in a 'postal' vote.
If you do not attend, then you must be at work if you would normally be working. If you are not at the PUM or at school, you could lose pay for an unapproved absence.
If you cannot go to the PUM because you have a commitment which cannot be altered during the two-week notice period, you can ask your PPTA branch chair to request an exemption from the regional team.
The branch chair must keep a record of members who attend and may ask you to sign an attendance list at the PUM. The original list is given to the principal and a copy kept for the branch records.
Where the branch has one person (e.g. technical intermediate members) the regional chair can verify their attendance.
How do I get an exemption?
If you cannot go to the PUM because you have a commitment which cannot be altered during the two-week notice period, you can ask your PPTA branch chair to request an exemption from the regional team.
What happens at the PUM?
The Regional Chair opens the meeting.
There is a roll-call of branches.
The Chair calls for nominations for scrutineers to count votes at the meeting and to deal with the ballot papers afterwards. A motion that these people be appointed as scrutineers will be moved.
There is a report on the issues the PUM is covering
Any recommendations to be voted on will be presented
There is an opportunity for questions on any factual things people need clarified from the presentation
There will then be a debate about the report and all of the recommendations.
Any member can ask questions or make points in the discussion.
There will be a voice vote to accept the report (this is a formality to acknowledge the report has been debated and is not a vote to accept the recommendations – you can accept the report and still vote against recommendations)
There will then be a vote on the recommendations
Any other items or motions from members will be dealt with after that (including any motions to add to, delete or amend any parts of the main recommendations)
At the end the Chair will close the meeting.
After the meeting ballot votes will counted at the venue by the scrutineers, and a return form completed and signed by the regional officer and sent to national office.
What are the 'rules' for a PUM?
The meetings follow quite a formal procedure, which is set by the PPTA Standing Orders. These are the Second Schedule in the Constitution booklet.
Standing Orders are available on the PPTA website (Click on About PPTA and go to the Constitution – Second Schedule.)
How long would I get if I want to speak at a PUM?
So that everyone has a fair chance to speak, and a diversity of views is heard, the mover of a motion gets up to ten minutes and all other speakers have up to five minutes.
You do not have to speak for the whole time and members are encouraged to be concise to give as many people as possible a chance to contribute.
If a motion 'to proceed with urgency' is passed, ordinary speaking time is three minutes.
When you start speaking you should say who you are and what branch you are from.
What does 'going into committee' mean?
For sensitive discussions the Chair will say "I move from the chair that the meeting move into committee". This is then put to a voice vote.
Going into committee is to provide a safe space for members to speak freely and to protect information which might provide an advantage to other parties to have made public, for example around our collective bargaining.
When the meeting goes into committee the Chair checks that no reporters or non-members are there and asks any to leave the meeting.
When a part of the meeting is in committee members are required not to repeat discussion or decisions made in that part of the meeting to anyone outside the meeting.
You cannot record, transmit what happens during a discussion that is in committee or comment on it on social media.
When the meeting votes to come out of committee the chair will make a statement that you can repeat as the summary of what happened in committee.
How does voting happen at a PUM?
The chairperson will guide the meeting on the way voting will happen.
There are three ways to vote:
Voice vote:
For many recommendations it is sufficient for people to call Aye/yes when asked if they are in favour of a recommendation and Nay or No if asked if they are against the recommendation. The majority should be clear from the calls.
Hand vote:
Some recommendations require the chair to know how many voted for and against, or the result of a voice vote may not be clear.
Secret ballot:
Some decisions must be made by a secret written vote. Votes on industrial action must be by secret ballot and votes on whether or not to accept offers for settling our collective agreements are often done by secret ballot. A voting paper will be provided. You will return the paper to a ballot box and elected scrutineers will count the votes. Usually this happens after the meeting.
Decisions made by secret ballot are confidential until the President releases the overall national result nationally once all the PUMs are completed. Regional voting figures are not publicised, but your regional chairperson will have your region's results.
Sometimes the chairperson will take a 'straw vote' – this is an informal, non-binding voice or hand vote to give an indication to the region or to the executive of what people are feeling at that time.